The advantages of miscanthus as a wildlife cover are now well known. At the request of the hunters of the department, the federation of the hunters of Aisne set up an operation Miscanthus since last year.
About 15 hectares were planted in 2016, at 20 farmers' homes, and another 10 will be planted in spring 2017.
The federation assists farmers in their choice of layout, by encouraging the establishment of strips, which are very favorable to small game.
Damien Ferté, farmer in Merval, has planted 2 ha, and plans to continue his developments on his hunting territory by planting 3 ha this year. His testimony: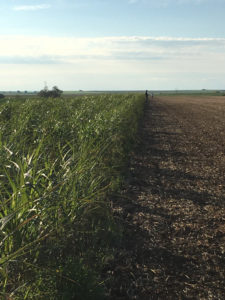 "I discovered miscanthus through the Aisne hunting federation which proposed an operation "miscanthus strips" linked to a contract with NovaBiom. I had already participated a few years ago in a "land management" operation with the chamber of agriculture. So I knew well the places where my strips would be planted. Since then, I also wanted to convert some woodland edges and small plots (outside the federation) into perennial crops. The establishment of strips of mustard corn, alfalfa... had become too restrictive. The advantage of a single planting for 20 years of a crop of recognized wildlife interest, with in addition a possible valorization and strongly interested me. However, it is important to take particular care with the planting and the weeding the first year. I have planned to plant an additional 3ha this year."
Damien FERTE, Merval(02).